Diabetes is a disease that affects the body's ability to produce or use insulin effectively to control blood sugar levels. It can cause damage to many parts of the body including the heart, kidneys and blood vessels. The eyes are particularly vulnerable to diabetic damage because the tiny blood vessels in the retina at the back of the eye are sensitive to fluctuations of the blood sugar levels in the body. The eyes provide an unobstructed view of the blood vessels on the retina and the damage that may be present due to diabetes. This view of the blood vessels is not visible in other areas of the body because it is blocked. During a dilated eye examination, optometrists are often the first professionals to detect blood vessel changes and suspect the presence of diabetes before symptoms appear. With early detection being the key to effective management, regular visits to your optometrist are important.


Diabetic eye disease is a group of eye problems that can affect people with diabetes. These conditions include diabetic retinopathy, diabetic macular edema, cataracts, and glaucoma. Often there are no early symptoms of diabetic eye disease and no visual changes as the damage occurs gradually. Over time there could be vision loss and even blindness. When symptoms do occur, they may include blurry or wavy vision, frequently changing vision, dark areas in vision or vision loss, poor colour vision, spots or floaters, or flashes of light. If you have any of these symptoms make an appointment for an eye examination. See your optometrist immediately if you notice sudden changes to your vision, including more frequent flashes of light or many more floaters than usual, or if it looks as though a curtain is pulled over your eyes. These changes in your vision can be symptoms of a detached retina, which is a medical emergency.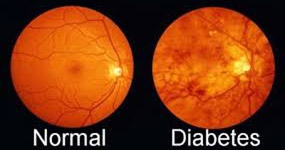 Diabetic retinopathy is a condition in which blood vessels in the retina swell, leak or close off completely, or when new blood vessels grow. There are various stages of the condition. In early nonproliferative diabetic retinopathy blood vessels can weaken, bulge, or leak into the retina. As the disease progresses the blood vessels begin to lose their ability to transport blood and essential nutrients to the retina. If it gets worse, some blood vessels close off, which causes new blood vessels to grow, or proliferate, on the surface of the retina. These abnormal vessels are fragile, making them likely to bleed or break. Resultant scar tissue may pull the retina away from the back of the eye, resulting in serious vision problems if left untreated.

One of the consequences of diabetic retinopathy may be macular edema. As a result of the build-up of leaking fluid there may be swelling on the macula, the central area of the retina which is responsible for clear vision and colour vision. Initially it may be asymptomatic, but there is a gradual loss of central vision which is usually irreversible. The earlier it is diagnosed, the sooner it can be effectively managed.

While cataracts are a common condition which can occur in anyone, excess blood sugar may cause them to develop earlier and progress more rapidly in people with diabetes.

Glaucoma is a group of eye diseases that damage the optic nerve due to elevated eye pressure. The risk for glaucoma is doubled in people with diabetes, who may also develop neovascular glaucoma, a less common condition which causes new blood vessels to grow over the iris (the coloured part of the eye), blocking the normal flow of fluid and interfering with vision.

If blood sugar levels change quickly or fluctuate often, it can affect the shape of the lens of the eye, causing blurry vision. It is advisable to wait before getting new glasses because vision generally returns to normal once the blood sugar level stabilises.

If you have diabetes and become pregnant, it is possible that eye problems may develop. If there is already diabetic retinopathy, it can become worse during pregnancy. Visit your optometrist regularly to monitor your vision and treat problems that may occur. Although you may feel that your eyes are fine, there are no warning signs of diabetic eye disease in the initial stages, and the only way to be sure is by having a dilated eye examination.


The fundamental treatment of diabetic eye disease is the management of blood sugar levels. Although treatment cannot restore lost vision, it can help slow the progression of the disease. There are a number of options which are used to treat diabetic eye diseases either separately or in combination, depending on the stage of the disease. Medication to block the growth of abnormal blood vessels and stop fluid leaks can stop further vision loss and may improve vision in some cases. Laser treatment seals leaking blood vessels and reduces the build-up of fluid and swelling by creating tiny burns inside the eye. In cases of severe bleeding or scar tissue, surgery may be performed.


Take responsibility for the protection of your vision by following a healthy lifestyle. Remember the ABC of managing diabetic eye disease. It is ASYMPTOMATIC in the early stages; if you know you have diabetes don't wait for visual symptoms to emerge, have an eye examination. The key to effective treatment is early detection and treatment. BOOK appointments with your optometrist regularly, either once a year or as recommended by your optometrist. CONTROL blood sugar levels; treatment of eye disease goes hand in hand with management of blood sugar.

If you already have some vision loss from diabetes, discuss with your optometrist how best to deal with this. Special eye care professionals can help you manage vision loss that cannot be corrected with glasses, contact lenses, medicine, or surgery. Special devices and training may help you make the most of your remaining vision so that you can continue to be active, enjoy hobbies, socialise and live an independent life.